Because the capacity of the conference room is now over,
we cannot accept on-site registration from September 28th.
Regular Registration for Online Participants (60,000 JPY) and
Student Registration for Online Participants (20,000 JPY) is available.
We are sorry inconvenience.
現在、富山国際会議場での参加は打ち切らせて頂き、Online 参加のみ受けております。
当日受付はしておりません、富山国際会議場にお越し頂いても受付出来ませんので何卒ご了承ください。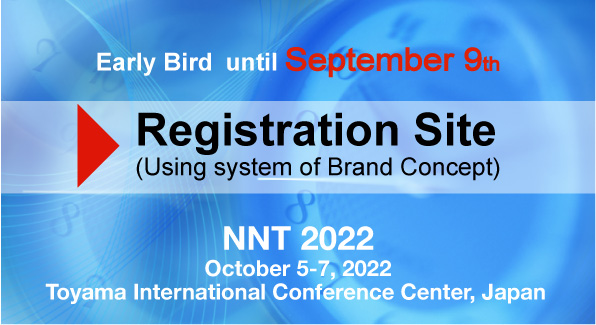 Registration site, using Award system of Brand Concept Corporation.
The credit Card statement is アワード会議システム
(1). Create a new account –> (2). e-mail from Reg. site –> (3). Log in –> (4). Registration (select registration and payment)
If you choice "student registration (Free)", Please choice "Bank Transfer" as your payment.
How to download the Receipt from October 5.
(1). Log in –> (2). Account Information –> (3). Please see the bottom of site and download your receipt.
All plenary, invited speakers do not need registration.
All regular speakers and the session chairpersons need the registration.

Registration site will be open around August 15.
Dear Colleagues

In order to activate discussions and exchange of information, face-to-face participation is strongly encouraged. To motivate participant, special discounts will be offered.

Registration Fee
Early Bird(Until 9th September Tokyo UTC+9)
On site(After 10th September Tokyo UTC+9)
Regular Registration
30,000 JPY
40,000 JPY
Student Registration
Free
10, 000 JPY
Regular Registration for Online Participants
50,000 JPY
60,000 JPY
Student Registration for Online Participants
15,000 JPY
20, 000 JPY
*Registration site will be available from first of August.
Registered online participants will be granted individual access to Zoom Webinars.
Considering world time differences, the presentations will record and provide a video streaming service of the presentations on the following day for a limited time. However, since this service will be provided by volunteers, we cannot guarantee high quality video. In some cases, there may be missing or extremely low-quality images and sound.
The speaker will be asked for permission to distribute the video in advance. Speakers are strongly requested to cooperate in the video distribution of their presentations.
Thank you for your understandings and cooperation.